Student Energy's Inaugural Youth Leaders Forum at CEM10/MI-4
Here's What Happens When You Bring 60 Young Leaders to the Clean Energy Ministerial:
This May, Student Energy brought the first-ever young leaders delegation to the 10th Clean Energy Ministerial and 4th Mission Innovation Forum in Vancouver, BC, uniting 60 young people from 25 countries, including every Canadian province and territory.  For the first time, our delegates were not only in the audience at CEM/MI, but they were active participants in panels, roundtables and plenaries at the forum. The Youth Leaders Forum also invited government, industry and public sector leaders to engage with the youth delegation, including Minister Sohi (Natural Resources Canada), Minister Catherine McKenna (Environment and Climate Change Canada) and Rachel Kyte (CEO of Sustainable Energy for All), among others.
What Was the Result of Getting Young People Into This Space?
Intergenerational collaboration: Recognizing that CEM/MI's member countries are operating in diverse political and economic contexts, delegates sought to find common ground across geography and across generations. Delegates advocated for intergenerational collaboration and the importance of co-creating solutions, as young people will be most affected by decisions made in spaces like CEM/MI, and because young people can be powerful allies in building public support for climate action.
Systems thinking: CEM/MI's youth delegates are keenly aware that transitioning the energy system involves more than switching technologies, as they discussed solutions for every part of the energy system, from production to transport to end use. Delegates also raised important issues around gender and racial equity, economic access, and climate justice, and emphasized that clean energy solutions must also be just and equitable.
Raised ambition: Echoing their peers around the world, the young leaders delegation conveyed the need to implement solutions that match the scale and urgency of the climate crisis, and urged their energy leaders to take bolder action.
Day 0: Skill-Building and Preparation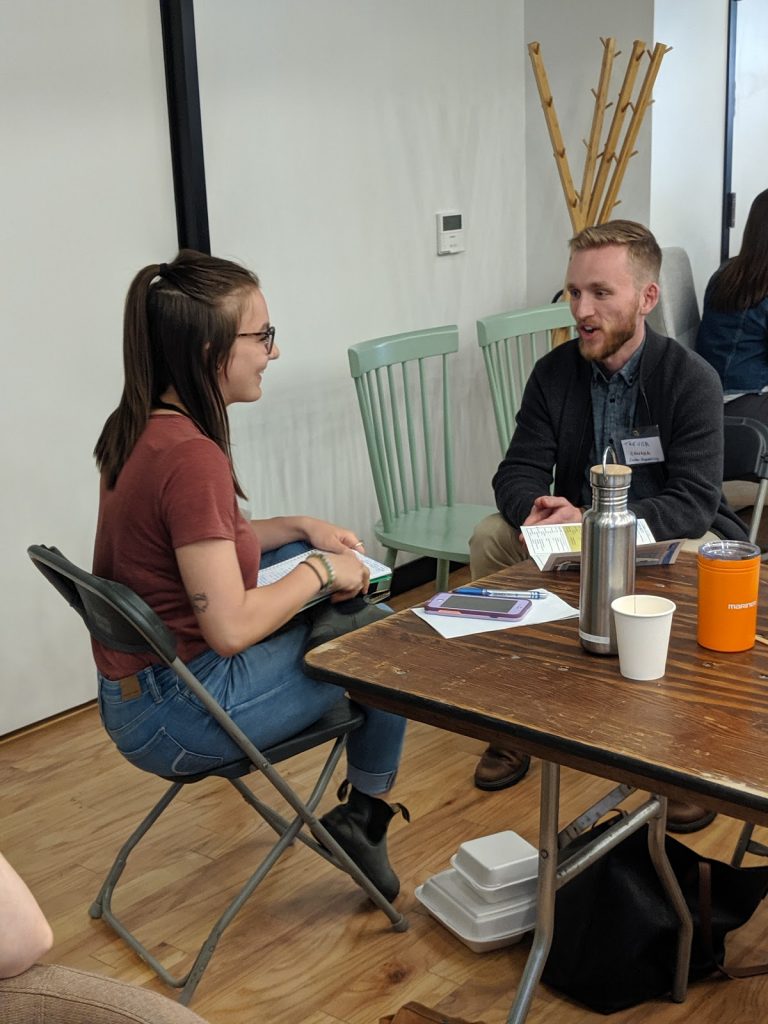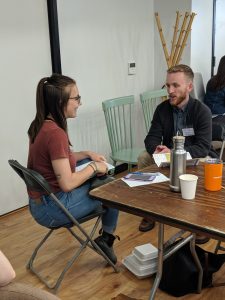 Student Energy's Youth Leaders Forum launched with a day of orientation and skill-building in Gastown. We began with a powerful welcome and prayer from Elder Ross Muehlfarth, who shared with our Canadian and International delegates the history of the unceded Coast Salish territory we are on, and imparted valuable teachings on connections and groundedness.
Visits from the CEM and MI Secretariats, Christian Zinglersen and Jennie Dodson, and Frank Des Rosiers, Chair of the Mission Innovation Steering Committee, gave delegates a chance to ask questions about how they could navigate this forum.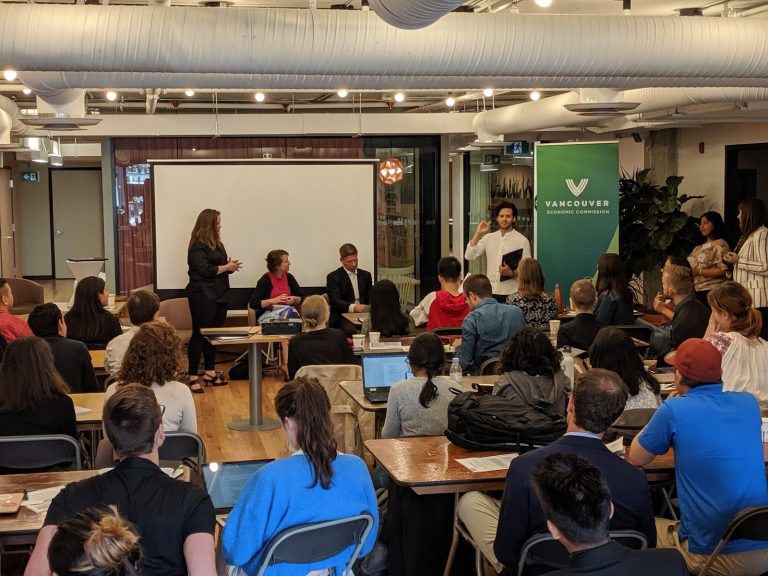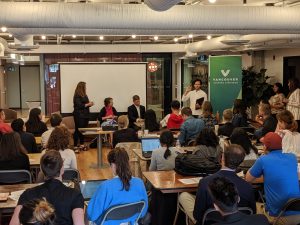 Jay Hennessy and Johan Söderblom from RI.SE and Mission Innovation also led a workshop that introduced delegates to Mission Innovation's Framework for Assessing Avoided Emissions. In this workshop, delegates learned how to assess the climate impact of new innovations.
One of Student Energy's core objectives is to build young people's skills in communicating their knowledge and wealth of experience, so youth delegates spent the rest of Day 0 gearing up for the forum by practicing their public speaking, networking, intention-setting and personal storytelling in workshops led by Student Energy. 
Raising Ambition
Throughout the week, young people were creating ripples – by asking tough questions, collaborating on nuanced solutions, and conveying moral urgency. CEM/MI's youth delegates brought an incredible energy to the room, especially evident during our informal Q&A with Canadian Minister of Natural Resources, Amarjeet Sohi, where we had more questions than we could possibly get to in an hour. Delegates asked about everything from whether Canada has a plan to upskill and transition transitioning fossil fuel workers to renewable energy, Canada's industrial and residential energy consumption, and how to approach the impact of energy projects on local Indigenous communities.
The discussion continued with special guests Hon. Catherine McKenna, Minister of Environment and Climate Change, and Rachel Kyte, CEO of Sustainable Energy for All – CEM/MI's young leaders consistently advocated for bold action on climate change that centers equity and just transitions.

Leading Our Low Carbon Future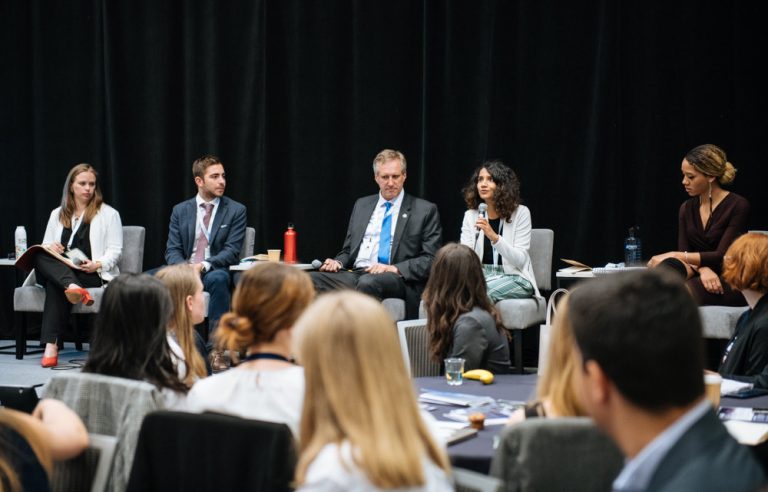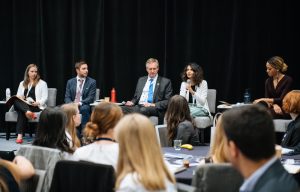 Student Energy's official side event dove into the possibilities of intergenerational collaboration. Panellists David Hochschild, Chair of the California Energy Commission, and youth delegates Sukanya Prabhudesai (India), Federico Barbieri (Italy) and Larissa Crawford (Canada) explored how we can leverage youth innovation to accelerate progress on energy in key areas of energy policy, urban planning, and building broad public support for the energy transition.
Solutions-Focused Youth Voice
Throughout CEM/MI, it was clear that the youth delegation cared deeply about understanding the complex problems within our current energy system, going beyond emissions to look at issues of gender and racial inequality, the challenges of mobilizing finance in different regions, and building political will. At the same time, CEM/MI's young leaders are solutions-oriented – here are some of the ways Student Energy facilitated a solutions-focused approach to transitioning the energy system:
Innovation Jam!
Bertrand Piccard, Chairman of Solar Impulse Foundation helped kick off the Innovation Jam with insights from his own entrepreneurial journey. A true Student Energy classic – the Innovation Jam is a fast-paced collaborative brainstorm session that sparks big ideas to tackle big challenges. By the end, solutions ranged from an innovative model for subscription-based solar to climate labelling for food to a mobile app to help consumers quantify their carbon footprint, showing the diversity of solutions needed to transition to a sustainable future.
Clean Energy Hackathon
Student Energy piloted a new session during CEM/MI that challenged youth delegates to tackle four real energy problems pitched by partner organizations. The Global Covenant of Mayors, the International Emissions Trading Association, City of Edmonton, and Sustainable Energy for All each proposed a real challenge their organization is dealing with – from energy master planning to keeping with the increasing demand for global cooling. The youth delegation put their collective research, entrepreneurship, and technical energy knowledge to the test to come up with solutions that are not only economically feasible, but politically and socially feasible as well. At the end of the hackathon, teams pitched their solutions back to the four organizations to receive constructive feedback.
What's Next?
The inaugural CEM/MI youth delegation is already laying the foundations to bring more youth into the energy conversation, and to amplify young people's recommendations for ambitious energy policy.
Delegates have also been reflecting on their experience at CEM/MI and the specific energy issues they are working on:
Rhythima Shinde (India)
Ville Sahlberg (Finland)
Sukanya Prabhudesai (India)
Student Energy will be carrying this momentum through to our upcoming International Student Energy Summit in London, which unites over 600 youth from 100+ countries!