Earth Day 2021: Action on Energy
To celebrate Earth Day 2021, Student Energy has an exciting day of live conversations on Instagram planned around our theme of Action on Energy. We'll be joined by other inspiring organizations in the sector to discuss how they're taking action and how you can too. Check out an overview of our programming below.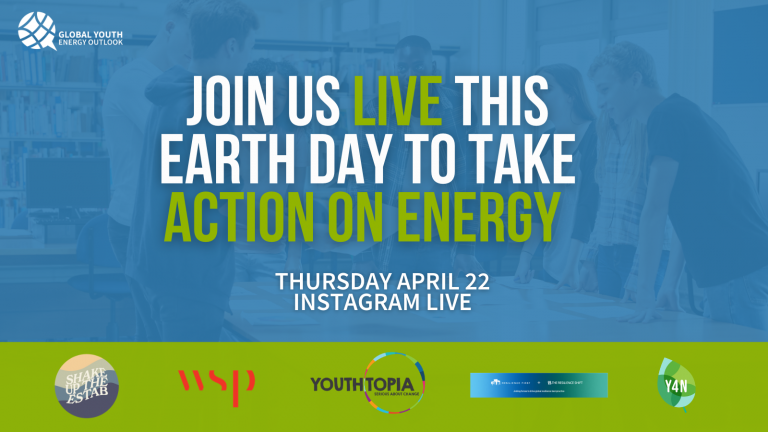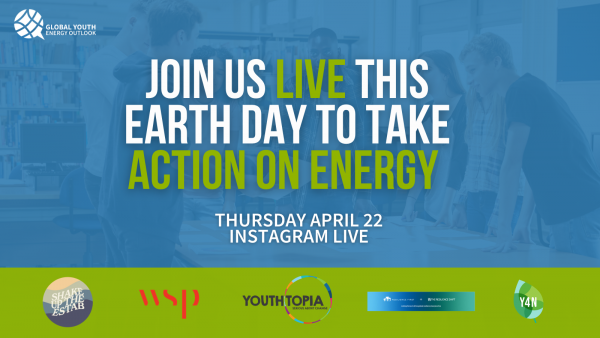 All of the below events will be hosted live on our Instagram. We hope to see you there!
07:00 PST/ 10:00 EST – Youth leading infrastructure transition: Launching the Youth Advisory Council with @wsp.usa
TIME: 07:00 PST/ 10:00 EST
Passionate about infrastructure and organizational change? Student Energy is looking for six youth to join WSP's Youth Advisory Council to work with and advise WSP staff on sustainability and innovation. WSP is one of the world's leading professional development firms, providing technical expertise and strategic advice to clients in Transportation & Infrastructure.
Speaking on the live are Tom Lewis and Nye Jones, from the Climate, Resilience & Sustainability team for WSP USA. Tom Lewis is WSP USA's senior executive in charge of Climate, Resilience & Sustainability for WSP USA which also strategically includes emergency and disaster management as well as the company's "Future Ready" program. Prior to its acquisition by WSP, Tom served as president of Louis Berger U.S. and corporate board member. Prior to that Tom was Louis Berger's lead executive on environment, emergency management, sustainability, and climate resilience working across the U.S. as well as globally. Tom is a licensed PE and holds a BS and MS in Civil Engineering and a Juris Doctorate with focus on environmental law. Tom is also a board member for multiple organizations, including as a founding board member for the International Coalition for Sustainable Infrastructure (ICSI) and as an advisory board member for Resilience First – a part of Resilience Shift who in turn is one of five founding organizers of ICSI along with WSP.  
Nye Jones works with the Climate, Resilience & Sustainability National Business Line with a focus on 'equity and social justice', led by Tom Lewis, senior executive in charge of Climate, Resilience & Sustainability for WSP USA. Nye's role allows her to collaborate, lead, and conduct deep dive assessments with an equity and social justice lens. Her former role as an Inclusion Leader supported a council to help the company's mission to foster an inclusive collaborative and forward-thinking workspace by focusing on operational excellence, and people. Nye Jones is a Certified Diversity Professional and studied diversity and inclusion at Cornell University.  
The conversation will be moderated by Helen Watts, Senior Director of Global Partnerships at Student Energy. 
08:00 PST/ 11:00 EST – Take action in 10 minutes: coffee chat with @syed_faisalshad
TIME: 08:00 PST/ 11:00 EST
Syed Faisal Shah, Global Youth Energy Outlook Regional Coordinator for the Indian Subcontinent, will be answering questions about what attracted him to the project, what it means for youth in his region, and what he hopes to achieve with the final report. The GYEO is an entirely youth-led research project connecting with 50,000 youth around the world on their vision for the future of energy in their region.
Faisal will be joined by Helen Watts, Senior Director of Global Partnerships at Student Energy.
09:00 PST/ 12:00 EST – Special Announcement with @xprize
TIME: 09:00 PST/ 12:00 EST
Join Michael Leitch, Technical Lead, Prize Operations, NRG COSIA Carbon XPRIZE and Kabir Nadkarni, Ventures Research Coordinator at Student Energy as they share details around the launch of the XPRIZE Carbon Removal Challenge. This is part of a larger four-year global competition inviting innovators and teams from anywhere on the planet to create and demonstrate solutions that accomplish carbon dioxide removal. Student Energy is adding on a "Youth Fast Track" Program to the existing XPRIZE Carbon Removal Challenge to mentor youth program participants on carbon removal and related business models, in support of applications to the XPRIZE Challenge. 
Michael Leitch comes to the XPRIZE Foundation with 8 years' experience in design, engineering, and energy research. As the Technical Manager for the NRG COSIA Carbon XPRIZE, Mr. Leitch supports the technical and scientific operations of the Carbon XPRIZE competition. Prior to joining XPRIZE, Mr. Leitch served as the Research Manager at RGL Reservoir Management, a small but scrappy oilfield manufacturing company based in Edmonton, Canada. There, he worked with a diverse team of engineers and scientists at the University of Alberta to build a comprehensive understanding of little known and little studied aspects of the oil recovery process. Mr. Leitch is trained as a machinist, holds a degree in Mechanical Engineering from the University of Calgary, and a Master's Degree in Engineering Management from the University of Alberta. A carbon-fiber enthusiast, outside of the office you can find him racing high performance sailboats and bicycles.
10:00 PST/ 13:00 EST – Sneak peek of Energy Outlook insights with @arskirgizolli
TIME: 10:00 PST/ 13:00 EST
After hosting two Regional Dialogues and diving deep into regional youth data and sentiment, Arsenii Kirgizov-Barskii, the Global Youth Energy Outlook Regional Coordinator for Eastern Europe and Central Asia, is ready to share some initial insights on what youth want for the future of energy in his region and share a message of hope for the future of energy. 
Arsenii will be joined by Shakti Ramkumar, Director of Communications and Policy at Student Energy. 
11:00 PST/ 14:00 EST – Nature-Based Solutions & Energy  with @youth4nature
TIME: 11:00 PST/ 14:00 EST
Join Kaluki Paul Mutuku,Youth4Nature's Regional Director for Africa and Shakti Ramkumar, Director of Communications and Policy at Student Energy as they discuss the importance of nature-based solutions and its role in the energy transition.
Mr. Kaluki Paul Mutuku is a Kenya-based young climate advocate and an environmental defender, working to champion meaningful youth engagement for Climate action. His background is in Environmental Conservation and Natural Resource Management from the University of Nairobi, Kenya. He has experience in community organizing, climate communication, campaign coordination, environmental education among many other areas. Previously, he worked with 350.org Kenya, for the deCOALonize campaign. He is a trained Environmental Educator with A Rocha International, under the Education for sustainable Development, ESD, and a Digital storyteller. His key focus for Africa is on land restoration, reforestation, ecological farming and youth leadership across the spaces. He dedicates part of his time to Green Treasures Farms, where he seeks to Intensify Environmental Sustainability by engaging rural communities in Kenya to protect their biodiversity, grow organic food, grow trees and build sustainable communities. He also hosts an environmental blog to foster environmental action for all.
12:00 PST/ 15:00 EST – Energy Justice with @shakeupthestab  
TIME: 12:00 PST/ 15:00 EST
Join Aarisha Elvi Haider, Politics Team Manager with Shake Up the Establishment and Grace Young, Global Programs Coordinator at Student Energy for a discussion on energy justice in Canada.
Aarisha has a background in Political Science from the University of British Columbia. All throughout her studies in university, she felt there was a disconnect between academia and collective action until she found herself participating in a global seminar in Peru that introduced her to the concept of Rights of Nature – a concept which would later shape her passion for social and climate justice. Living and learning from the Indigenous Kichwa-Lamista community, that experience not only left an imprint moving forward with her activism but also her way of life on how to hold space. With an interest in decolonizing policies, Aarisha intends to bridge knowledge gaps with on-going education by collectively learning, story-telling and inter-cultural dialogue.
If you'd like to send us questions or input, feel free to email us or reach out to us on social media. Hope to see you there!