Student Energy
Summit 2023
We are excited to announce that the next International Student Energy Summit (SES) has launched and

pre-registration is now open!
SES 2023 will be held in the Middle East for the very first time in November 2023, hosted by New York University Abu Dhabi (NYUAD) under the theme Reimagining the Future. The Summit will be a transformative space for intergenerational collaboration and will cultivate a space for young people from diverse homelands and unique educational and socio-economic backgrounds to network and present innovative solutions to our energy challenges. Visit ses2023.org or click here for more information.
STUDENT ENERGY SUMMIT 2023
In November 2023, the Student Energy Summit (SES) will come to the United Arab Emirates for the very first time, hosted by New York University Abu Dhabi (NYUAD). Under the theme Reimagining the Future, hundreds of students will gather in Abu Dhabi.
With our goal of Reimagining the Future we are creating a sustainable outlook for the energy transition by connecting the youth of today to leaders of the energy sector to educate the leaders of tomorrow. The summit will be the world's largest and most diverse youth-led energy conference, hosted in the Middle East and in collaboration with local and global partners. We aim to empower a new generation of energy sector leaders and highlight the success story and the vision of the UAE's energy transition.
NYUAD is a pioneer for sustainability initiatives in the UAE. Through strategies that span every area of university life, NYUAD aims to reduce greenhouse gas emissions, support teaching and research, and provide resources and guidance in establishing a culture of sustainability. Our goal is to gather over 600 young student leaders from all over the world to cultivate innovative ideas, collaborate, and reimagine the future of the energy sector and pathways to sustainability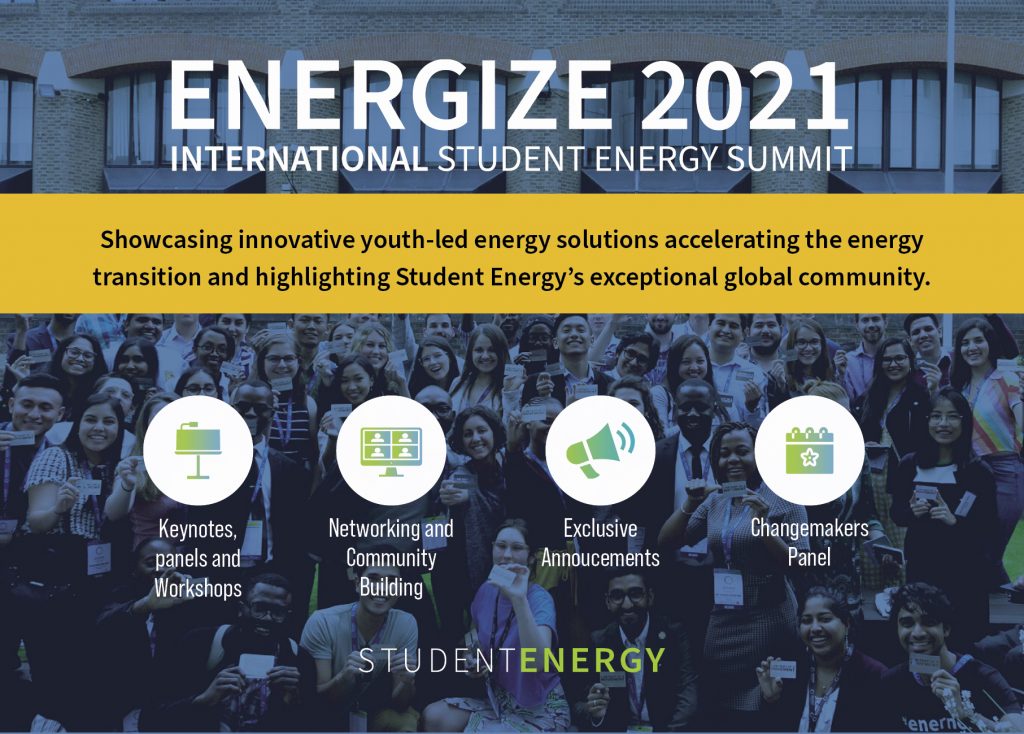 Energize: 1-Day Student Energy Summit 2021
October 8th, 2021, Student Energy transformed our flagship biennial event, the International Student Energy Summit, into an entirely virtual summit open to all. Energize: 1 Day Student Energy Summit utilized a mix of digital platforms and curated content to create a uniquely impactful virtual learning and connecting experience while bringing back all the best parts of our Student Energy Summits. The Energize: 1 Day Student Energy Summit showcased incredible youth-led energy solutions accelerating the energy transition while highlighting our exceptional global community.
Past Student Energy Summits
Student Energy Summit 2019
SES2019 took place from July 17th to 20th at Imperial College in London, UK, bringing together 650 students from 98 countries across the globe. SES2019 was the 6th and largest International Student Energy Summit yet. The Summit's theme was 'Breaking Barriers', recognizing that communities face different challenges, yet all have the collective goal of transitioning to a sustainable energy system.
"Student Energy gave me this really international perspective. I've always been involved in politics so I've been mixing politics with engineering and energy engineering and always knew that I wanted to work with policy to influence society, but before Student Energy I was more interested in, I think national politics. But Student Energy really broadened my perspective, I started thinking more in an international way, how can we influence the energy system on a global level? Being at the Student Energy Summit in Indonesia gave me perspectives from all around the world and really seeing that the energy system is much broader and you have to work with it on a global level.">
Emma Wiesner
"It's been incredible to see 650 people getting together, students from different parts of the world with different mindsets, and the fact that there are a lot of people – not just engineers – who see the importance of doing this. I was very impressed with the movement, and I'm so excited to try and get hands-on and find something to do within Student Energy. I'm going to go back and have this in the back of my mind when I go back home to Botswana, I intend to look around and see exactly what is it that I can do. When I move on in my career, how exactly can I still do it in a way that's sustainable, that is still going to help me be responsible with the way that I do things in the world, and to educate people and other students that everybody has to be informed and be a part of this, because the time to act is now."
Dorrica Lesendi Henriksen
SES 2019 Delegate – Botswana
"I think one of the biggest highlights is just the opportunity to really connect, network, and have great conversations with other amazing young people from all around the world who are working on so many great things. So many of them are engineers, business students, arts students, and we have all these different perspectives and the same goal and vision so it's just been an amazing opportunity to collaborate with others."
Maheep Sandhu
SES 2019 Delegate – Canada | Co-Founder, Student Energy at Carleton University
Stories
Over Student Energy's 11 year history, our alums have gone on to make an impact in their communities and globally, in diverse sectors. Check out some of their stories:
Powered by
Subscribe for news and updates