Theory of Change
Student Energy's Theory of Change defines the end goal our organization is working towards (a sustainable and equitable energy future), and then utilizes backwards mapping to illustrate how our organization's work creates the conditions for this goal to be achieved.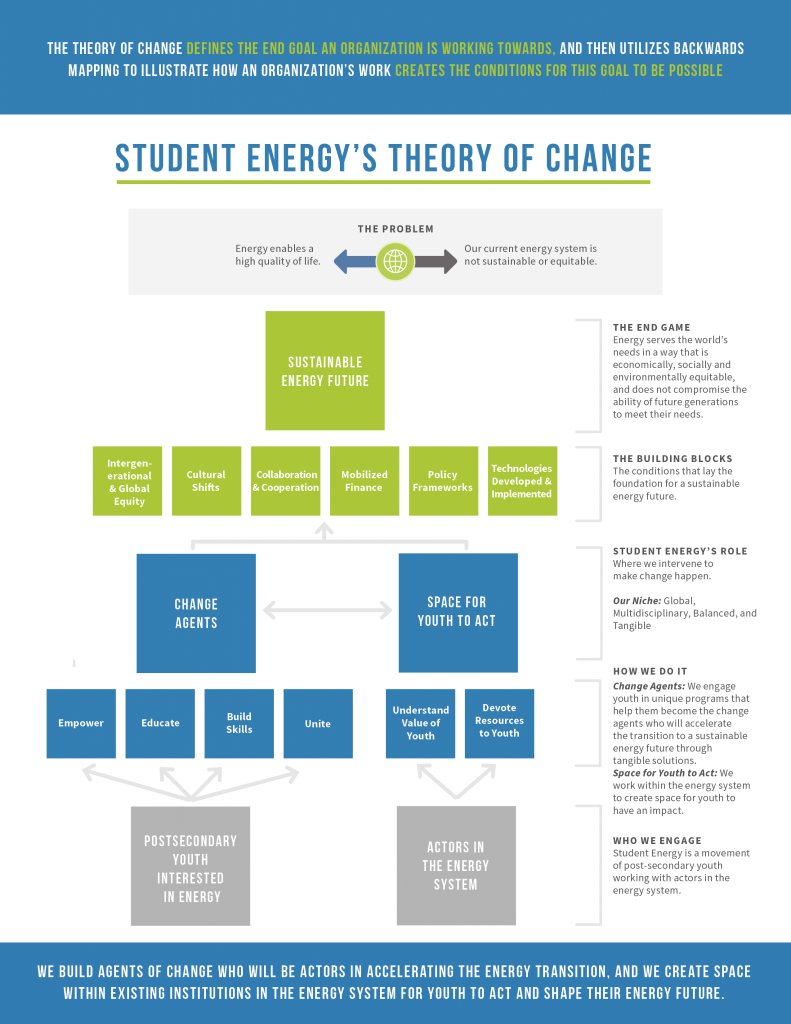 Definitions And Assumptions
Student Energy's role
Student Energy is a global non-profit youth-led organization that is creating a movement of young leaders committed to transitioning the world to a sustainable energy future.
In a world where energy information is dominated by polarized soundbites, Student Energy is on a mission to deliver accurate and unbiased energy information to students across the world.
Student Energy provides energy education aligned with climate science. We do not advocate for particular technologies, policies, or practices, as we encourage young people to learn and identify climate and energy solutions that are most appropriate for their communities. Student Energy presents as many perspectives on energy topics as possible, and tools for critical thinking, and allows students to draw their own conclusions on how to build a sustainable energy future. We always strive to create meaningful educational opportunities, promote knowledge transfer, and facilitate open debate.
Student Energy is Global, Multidisciplinary, Balanced, and Tangible.
Global:Student Energy is global in our reach and in the perspectives. We aim to serve and include all of the world's post-secondary students in our initiatives and content.
Multidisciplinary: Student Energy encourages students to learn about energy from many perspectives. Working in silos is unproductive, and we need creative solutions in order to transition the world to a sustainable energy future. Student Energy strongly encourages students to learn about energy from perspectives outside of their own field of study and personal experience.
Balanced:Student Energy provides energy education aligned with climate science and diverse perspectives, and cultivates critical thinking to develop appropriate solutions for their communities.
Tangible: Student Energy empowers young people with the necessary skills and resources to take on and implement tangible energy projects, and advocates for insitutions in the energy sector to devote material resources to supporting youth-led solutions.
How we engage
Student Energy empowers students to become agents of change while simultaneously working with decision-makers and influential actors in the energy sector to create the space for youth to act.
Change agents
Complex factors currently make our energy system unsustainable. The end game for Student Energy is a sustainable energy future where energy serves the needs of the present in a way that is economically, socially and environmentally equitable, and does not compromise the ability of future generations to meet their needs.
To achieve this future, we need collaborative, resilient people who are willing to work hard toward this vision, both within the existing energy system, and as energy entrepreneurs. Our global community of young people will be change agents who are prepared to tackle these problems.
Space for youth to act
Part of the transition to a sustainable energy future is the recognition of the need for innovative and collaborative human resources that will design the tools needed for a sustainable energy future.
When institutions include youth voices and agency in their operating model, they are acknowledging that innovative ideas and collaborative solutions are a key part of creating a sustainable energy future. This empowers those who will be integral players in the future of energy, and recognizes that youth are capable of working towards and contributing to this future.
Here is what we do to shape the future of energy:
Empower
We empower young people by instilling:
Value of oneself
Value of youth and paradigm shifts
A sense of possibility
A sense of purpose
Community support and connection
Educate
We give knowledge by ensuring young people:
Know a wide range of energy information, and understand the energy system
Truly understand the importance and implications of energy
Know what technological, economic, policy, and social factors contribute to the energy system, and have a base level understanding of each and how they work together
Know of costs, benefits and trade-offs of energy options
Understand of different social/cultural contexts
Know how to take action
Build Skills
We build skills that make young people:
Ambitious
Able to identify needs, their own and within a system
Capable of mobilizing resources
Risk tolerant, with the ability to fail and learn
Value integration of multiple perspectives in research and decision-making
Critical thinkers who question information and test assumptions
Motivators who can mobilize others
Chameleons, readily adaptable to changing environments and cultures
People who can execute, see a project through from start to finish
Active listeners
Systems thinkers
Unite
We unite young people so they:
Understand the importance of balancing people, the environment, and economics
Empathize
Enjoy learning by doing
Are action driven
Have grit and persistence
Develop curiosity
Drive progress and consistently question the status quo
Focus on solutions
Value innovation
Are visionary and humble
Powered by
Subscribe for news and updates