Student Energy at New York Climate Week & GCEAF in Pittsburgh, USA
This September, Student Energy participated in New York Climate Week (Sept 19-23) and the Global Clean Energy Action Forum, or GCEAF, in Pittsburgh, Pennsylvania (Sept 21-23), speaking and facilitating several events, and meeting with Student Energy alums, partners, and other youth-led organizations. A team of 3, Meredith Adler, Shakti Ramkumar, and Helen Watts, represented Student Energy on the ground – here are some of our highlights:
Global Clean Energy Action Forum:
Meredith Adler, and SevenGen Council members Mihskakwan James Harper and Serena Mendizabal met with The Hon. Jonathan Wilkinson, Minister for Natural Resources Canada, to discuss youth-led action on clean energy in Canada, and to recognize the announcement of the Government of Canada's $5.3M contribution to promote youth participation in the clean energy sector.
Student Energy hosted an official side event at the GCEAF, "Mobilizing Youth for a Just Transition", moderated by Shakti Ramkumar and featuring speakers Serena Mendizabal (SevenGen), Isabella Pfoser (Austrian Youth Climate Council), Yasemin Yavari (Danish Youth Climate Council), and Efrem Bycer (LinkedIn).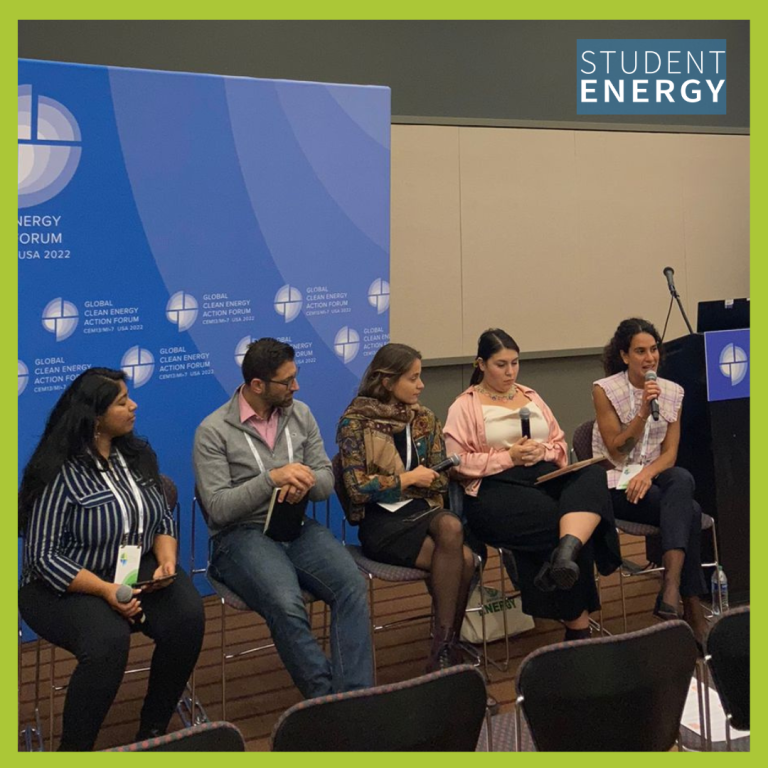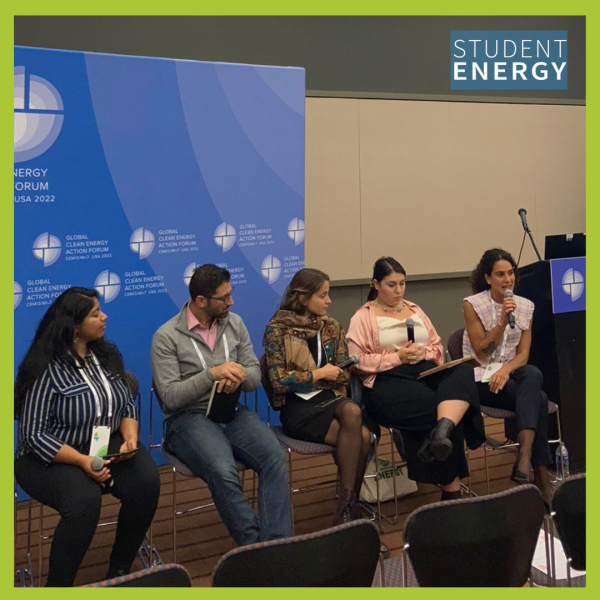 Shakti moderated the final panel at the Creating the Energy Futures Forum Closing Plenary, featuring youth clean energy researchers and advocates who outlined technologies they are eager to see scale in the near future.
Student Energy participated in a special side event, "From blindspot to hotspot", with Shakti moderating audience engagement for a session on sustainable cooling organized by the Government of India, UNEP, Mission Innovation, the Cool Coalition, and Clean Cooling Collaborative, and featuring special guest Secretary John Kerry, Special Presidential Envoy for Climate, USA.
In addition to these events, we were thrilled to meet youth delegates from around the world who participated in the GCEAF.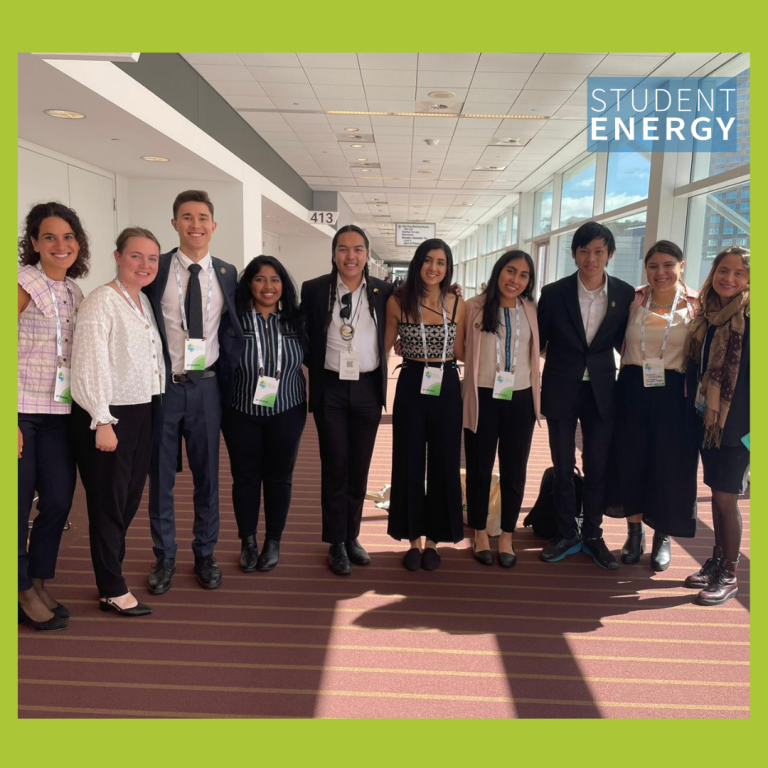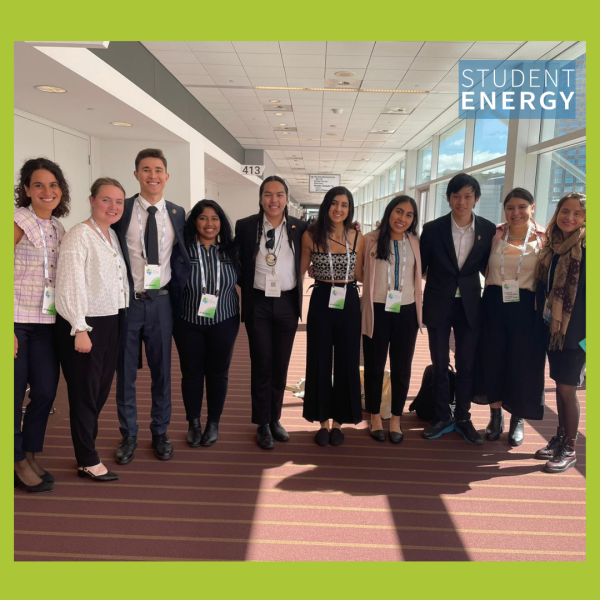 New York Climate Week:
We participated in a Youth Movement Building & Climate Justice Re-Granters meeting alongside climate justice activists and re-granting/funding organizations to explore the critical resourcing needs of youth climate justice activists
Helen spoke at the UN Global Compact Private Sector Forum, alongside Ester Baiget, CEO of Novozymes, H.E. Razan Al Mubarak, President of IUCN, Abu Dhabi, UAE, and Rebecca Miano, CEO of Kenya Electricity Generating Company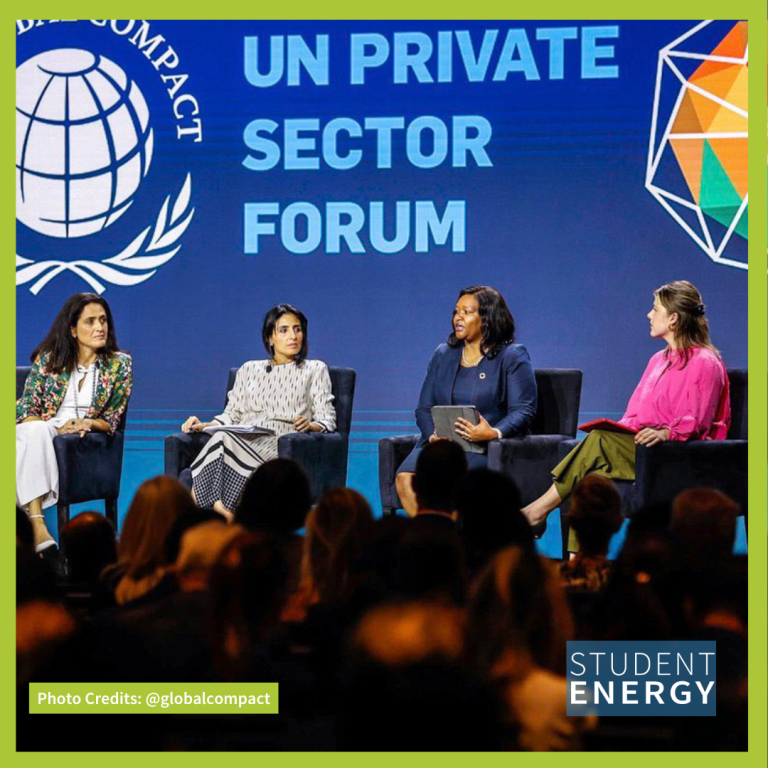 Shakti attended the inaugural Youth Climate Leaders Luncheon, co-hosted by Ahmed Badr and Louise Mabulo, in partnership with We Are Family Foundation, SAP, Narratio, The Cacao Project, and Connect4Climate
In addition to these events, Helen and Shakti also participated in the Hub Live event, the Nest Summit, the Climate Forward Summit by the New York Times, and met with Student Energy's alums and partners throughout the week during New York Climate Week.