Chapters Spotlight: Benjamin Betancourt Tovar of Monterrey Institute of Technology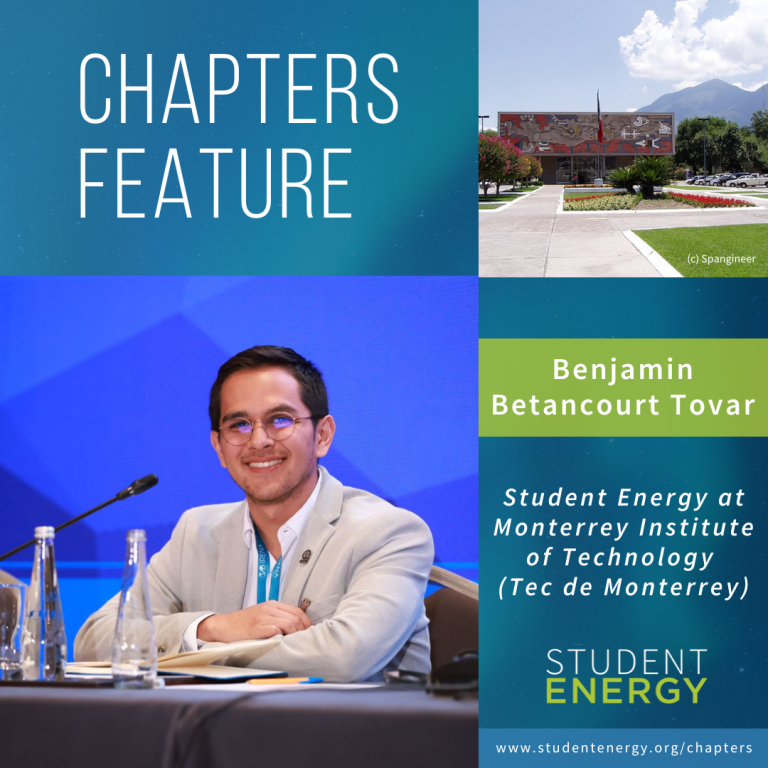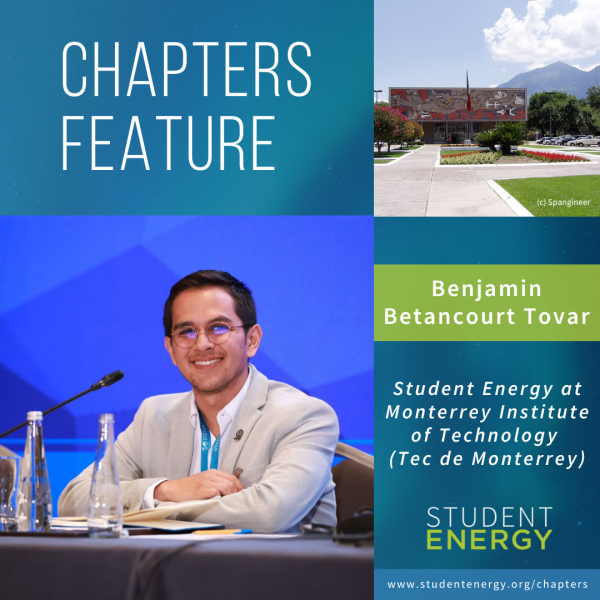 Meet the former president of the Student Energy Chapter at Monterrey Institute of Technology (Tec de Monterrey) – Benjamin Betancourt Tovar! He was president of the Chapter from August 2022 to July 2023. Currently, he is studying Nanotechnology Engineering at his University in Monterrey, Mexico.
"In January of 2023, I had the opportunity to be selected and attend the 13th IRENA Assembly as an IRENA Youth Delegate in Abu Dhabi, United Arab Emirates. In the same event, I was able to participate in the IRENA Youth Forum: The Next Generation of Decision Makers, where I was part of a panel discussion, expressing how we, the youth, face challenges in the development of science, innovation and technology for energetic affairs. Apart from the assembly, the Youth Delegation had the opportunity to attend the Abu Dhabi Sustainability Week and visit Noor Abu Dhabi, the world's largest stand-alone operational solar plant. During my trip, I was thrilled to meet new people from all over the world with different perspectives, meet high level representatives from different organizations and also to learn about the energetic sector developments and challenges from IRENA representatives from all over the world. After this exciting experience, I came back to Mexico with fresh ideas and motivation to design and implement solutions in my community towards the youth-led energetic transition, working within my chapter and also in the development of "ANSE: México Joven por la Energía" [Mexican Youth for Energy], a youth-led energy network within Mexico!" – Benjamin Betancourt Tovar
Interested to start a Student Energy Chapter at your university? Head over to Starting a Chapter on our website and fill out an Expression of Interest form!